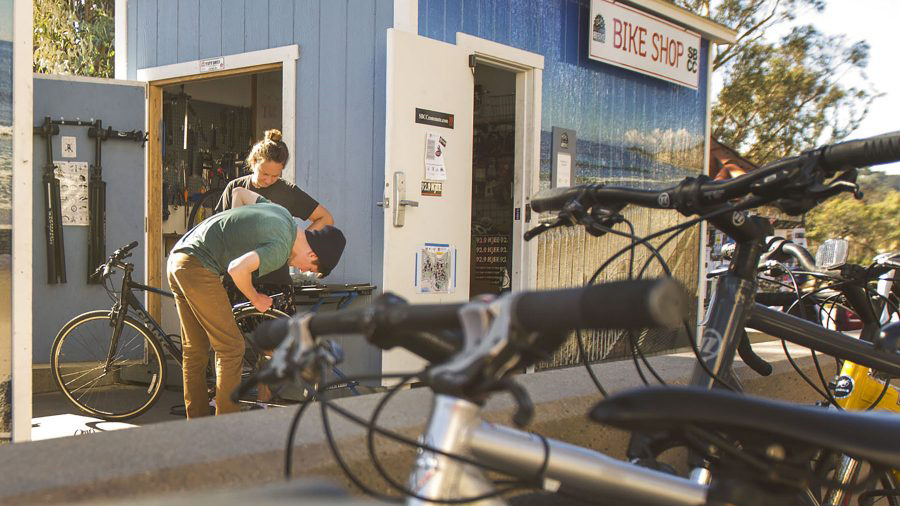 Campus Bike Shop
Need to fix your bike?
The Campus Repair and Do It Yourself "DIY" Bike Shop is located on the East Campus, near the Bridge!
Hours of Operation:
Monday, Tuesday, Wednesday and Thursday
10 a.m. - 3 p.m.

The SBCC Bike Shop is in partnership with MOVE Santa Barbara. There main office is located just east of downtown Santa Barbara along Haley Street and can help you with your biking needs.
Bici Centro is MOVE's community bike shop designed to educate, mentor and empower the Santa Barbara County community through bicycle repair and maintenance. They have multiple DIY stations available 5 days a week with professional mechanics and volunteers who are trained to teach proper bicycle mechanics. In addition, Bici Centro refurbishes bicycles and offers them at a reduced cost to the public as well as offering affordable pricing on bicycle repair if you wish to drop off your bike. Check out their website for more locations, or come to the SBCC East Campus Bike Shop at the Bridge.
MOVE's community bike shop, Bici Centro, Location:
434 OLIVE ST., SANTA BARBARA, CA 93101
Open: Tuesday–Friday 11:30 a.m. – 5:30 p.m. and Saturdays from noon - to 4 p.m.
Closed: Sunday and Monday
Phone: 805-617-3255
Website: www.MoveSBCounty.org
Email: shop@bicicentro.org