Entrance Requirements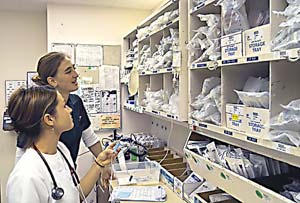 During the semester prior to program entry, students will be required to:
Attend a Mandatory Group Orientation Meeting. Accepted students will be notified of the date and time of the session shortly after notification of program acceptance. If a student does not attend this Mandatory Group Orientation, they will forfeit their seat and another student will be called to enter in their place.
Complete a physical examination on the SBCC provided form. Requirements including vaccinations and the deadline will be given at the orientation meeting.
Obtain a CPR card for professional rescuers. CPR certification must be kept current throughout the program. Santa Barbara area CPR course providers.
Students are required to clear a criminal background check and drug test. Should a clinical agency refuse to allow a student based on the outcome of either the background check or drug screen, the program is not responsible for arranging alternate placements.
5. There are some one-time materials fees that will be paid at time of registration for
applicable courses.
Advisory for Career Choice: Mental and Physical Qualifications for Nursing
There are essential functions required for professional nursing practice. Typically, nursing employers specify these as "minimal essential standards and functions" for employment as a nurse. The following qualifications are required of the Santa Barbara City College (SBCC) Associate Degree Nursing Program applicants and accepted students.
1. The ability to demonstrate physical capabilities that include endurance and motor skills such as working and walking in a standing position for eight to thirteen hours, transferring patients from a stooped to upright position, pull the weight of an adult up to three feet, applying pressure for bleeding site and apply ten pounds of pressure in the performance of CPR.
2. The ability to interpret and communicate in verbal, written and electronic forms; in order to interpret client responses, to communicate nursing actions and health interventions, and to understand, document, and teach nursing activities. This includes using appropriate grammar, vocabulary, and word usage.
3. The ability to appropriately interact with individuals, families, and groups from a variety of social, emotional, cultural, and intellectual backgrounds.
4. The ability to think in a timely manner, in order to make clinical decisions, identify relationships between clinical data, and develop nursing care plans.
5. The ability to perform mathematical calculations necessary for the preparation and administration of medication,.
6. The ability to demonstrate fine motor skills and hand-eye coordination to read calibrated scales of 100th increments in not more than three inch space and use small instruments and equipment.
7. The ability to hear well enough to monitor and assess clients health needs. This includes, but not limited to hearing cries for help, emergency signals and alarms, and breath and heart sounds.
8. The ability to see well enough to observe and assess client's health status and changes in condition. This includes seeing facial expression, movement, changes in skin color, and other observed client changes or responses.
9. The ability to have tactile capabilities sufficient for physical assessment. This includes performing palpation, noting temperature changes in skin and other changes in client condition.
Note: SBCC and employers will evaluate written evaluate written requests for reasonable accommodations for person with disabilities to assist with the performance of the essential functions. Accommodations will be provided when available. However, with accommodations, the employee must be able to perform "essential functions" of the position.
Back to top